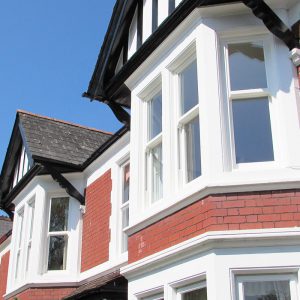 Modern life is increasingly busy. For many of us, home maintenance is a time-consuming hassle we could well do without. Unfortunately, some areas of the home will require maintenance to avoid future problems and to keep your home in the best condition. If you live in an older property, this is particularly true. Original fittings and fixtures can become tired and inefficient and some degree of modernising will eventually be essential.
Low maintenance benefits of the Rose Collection
If you live in a property with its original timber windows, you'll understand how time-consuming and costly home maintenance can be. The regular sanding down and re-painting can easily become a chore which eats up a large amount of your spare time. Employing a professional to do the work is very expensive due to the time and effort involved. The process will also need to be re-done approximately every five years. If it isn't, the windows can deteriorate.
Once timber windows start to deteriorate, it's very difficult to rectify the problem. Painting over rotting wood will only mask the problem and delay the inevitable remedial work. Having your timber windows professionally refurbished can cost as much as a new window. With little to no maintenance and a life expectancy which far outstrips the five-year refurbishment of timber windows, Rose Collection sash windows are a great option.
Rose Collection sash windows require extremely low (almost zero) levels of maintenance – just an occasional clean with soapy water to keep them looking new. As well as being warm, weatherproof and secure, they will never need re-painting. Not only will this save you time and hassle, it will also save you a considerable amount of money over the lifetime of the window.
Attractive and durable uPVC finish
Older windows can be inefficient, costing you money on home heating and also posing a potential security risk. Rose Collection sash windows on the other hand are manufactured using high-quality uPVC. They require very little maintenance to keep them functioning at their highest level. With only the occasional wipe down with a damp cloth, they'll continue to look great and perform at the optimum standard for many years to come.
Rose Collection sash windows are available in a selection of authentic woodgrain finishes. Almost indistinguishable from timber, their stylish finish is perfectly suited to period properties where upholding the building's original character is essential. Whether your home would suit a white or cream woodgrain finish or a classic timber colour such as Golden Oak or Rosewood, the Rose Collection are the windows for you.
If you'd like to find out more about reducing your home maintenance levels, saving time and money, and enjoying a better standard of living, get in touch today. For more information about the Rose Collection call 01234 712 657 or contact us online.